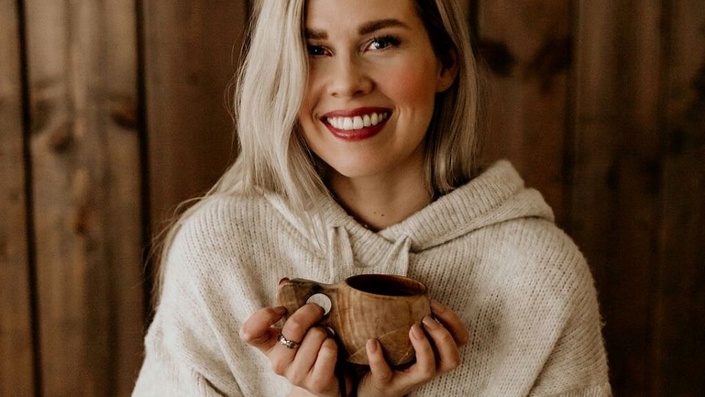 FINNISH CULTURE COMPASS
Looking for a deep dive into Finnish culture and experiences?
The Finnish Culture Compass course is your fast-track pass to feeling connected with the Finnish way of life.

After this cultural course, you will:
✅ Feel that the Finnish culture is as easy to approach as a warm, home-baked cinnamon roll
✅ Be confident with the Finnish communication style (even when it's filled with silence)
✅ Be prepared to meet and get to know Finns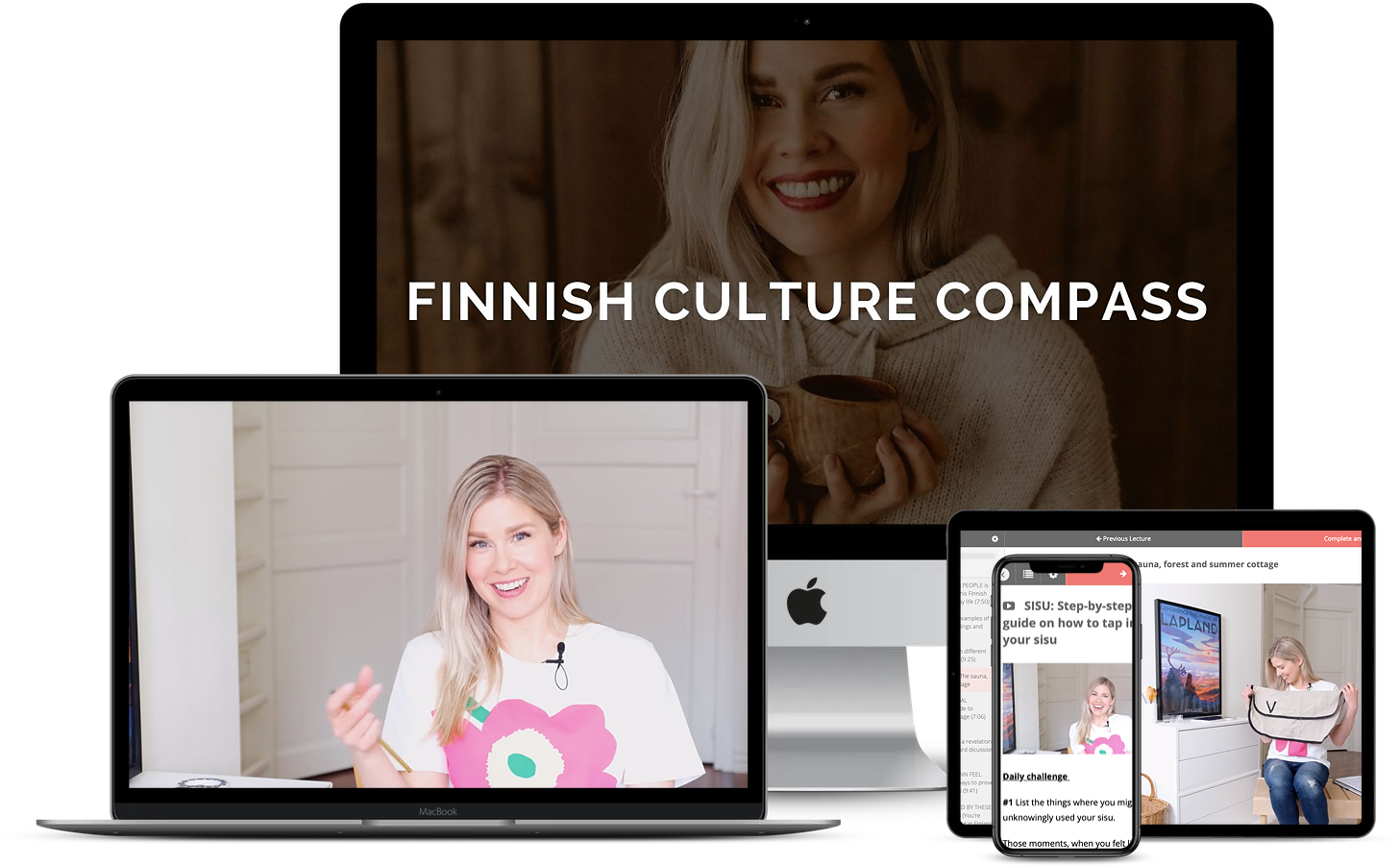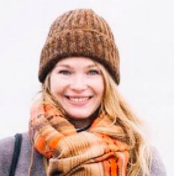 "I think this course is wonderful! I found the chapter about breaking the ice and keeping a conversation going especially helpful for myself."
- Elena
⭐⭐⭐⭐⭐

"I have researched Finland online through tourism, news and blogging resources. I feel like this course was different from other resources in providing so much information to help connect with Finnish people."
- Beth

Have you been wondering....
How can you go from hearing that tiny voice in your head whispering "Finland, Finland" to feeling totally connected with the Finnish lifestyle?
Before this course, my students felt disconnected because of challenges in:
1. communication style
2. making friends
3. learning the unwritten cultural rules
With this course, you too can break through these surface-level barriers by learning the lesser-known, intricate details of everyday Finnish life.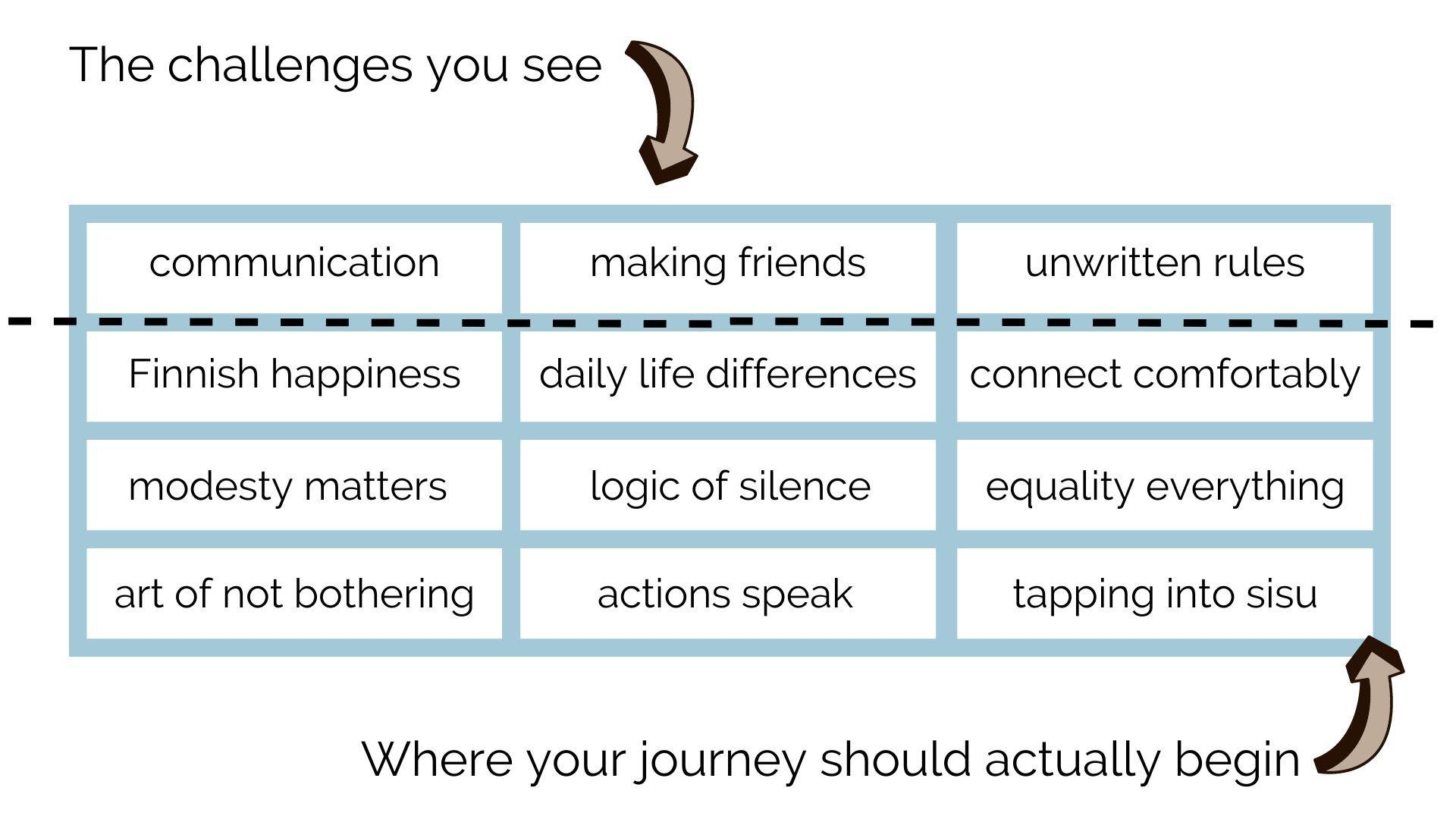 The Finnish Culture Compass course is the step-by-step roadmap that helps you confidently connect with Finns and feel equipped for your adventures in Finland.
You see, while there are lots of free resources about the Finnish culture on the internet, these resources don't offer any insight into the "why" behind their statements.
As a native Finn, I was shocked to see it.
It led me to quit my job in the corporate world and to use my Master's degree and professional background to help you take action with your Finnish dream.
I've helped over 14 000 students with my online classes and been featured in media outlets like Cosmopolitan, Marie Claire and UK's TV5.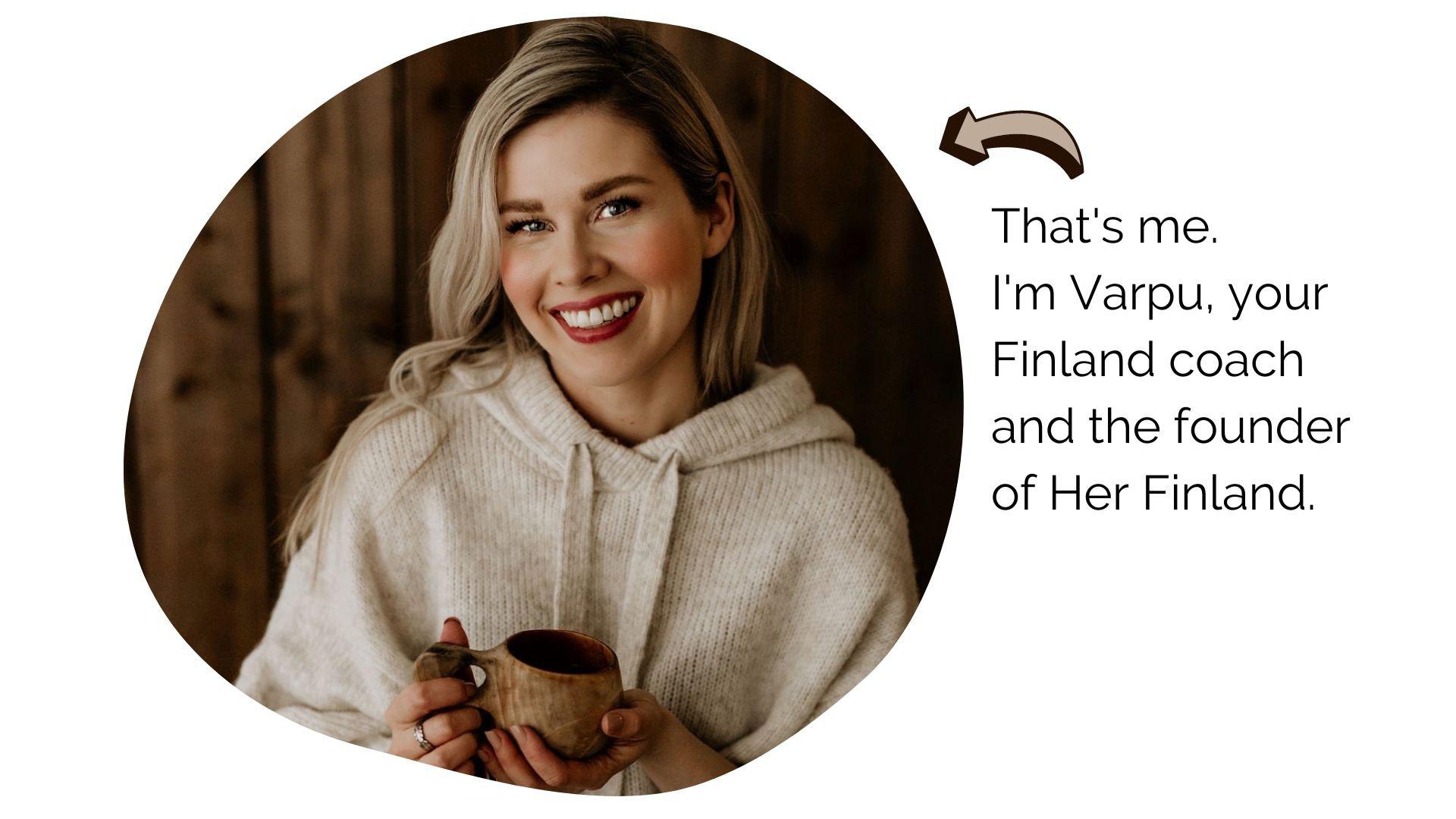 Since 2018, I have recorded all the struggles of my international community while doing extensive research on the Finnish culture.
That's how the Finnish Culture Compass course was born.
It's the ultimate Finnish cultural resource you have been wishing for but didn't know it could exist.
Finnish Culture Compass course includes:
✅ 14 made-for-you lesson modules about the Finnish way of life
✅ 100+ practical examples of everyday situations
✅ Complete workbook to reflect and participate in the dialogue

✅ BONUS #1 - Personal video review (worth 150 USD)

✅ BONUS #2 - Finnish Whisperer eBook (worth 30 USD)
✅ BONUS #3 - Practical culture workshops (worth 30 USD)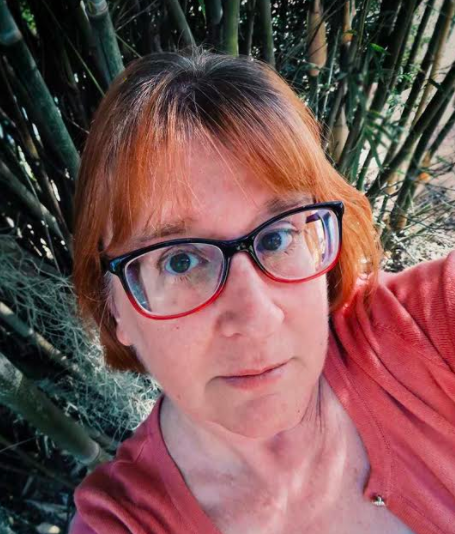 "I highly recommend this excellent course on Finnish culture! I've been interested in Finland, its language and culture, ever since watching a Finnish series on Netflix. I was browsing the internet to learn more about Finland when I came across Varpu's website.
The videos are interesting and clear. Varpu didn't only present the good in her culture – she was honest and shared both the positives and the negatives.
I've never been to Finland and visiting the country appeared in my mind as a far-away dream. Now, thanks to Varpu's course, that vague dream is growing and solidifying. I can imagine myself there.
And, most of all, I feel much better prepared to meet and get to know Finns. Thank you, Varpu!"
- Gwen
How will this course help you succeed on your Finland discovery journey? By using the Compass Method.
The Compass Method is all about dialogue.
Just like a map and a compass are tools that need one another to work succesfully, the lessons of this course are there to relate with your mindset, thoughts, and background.
Enter... Your Finnish Culture Compass workbook!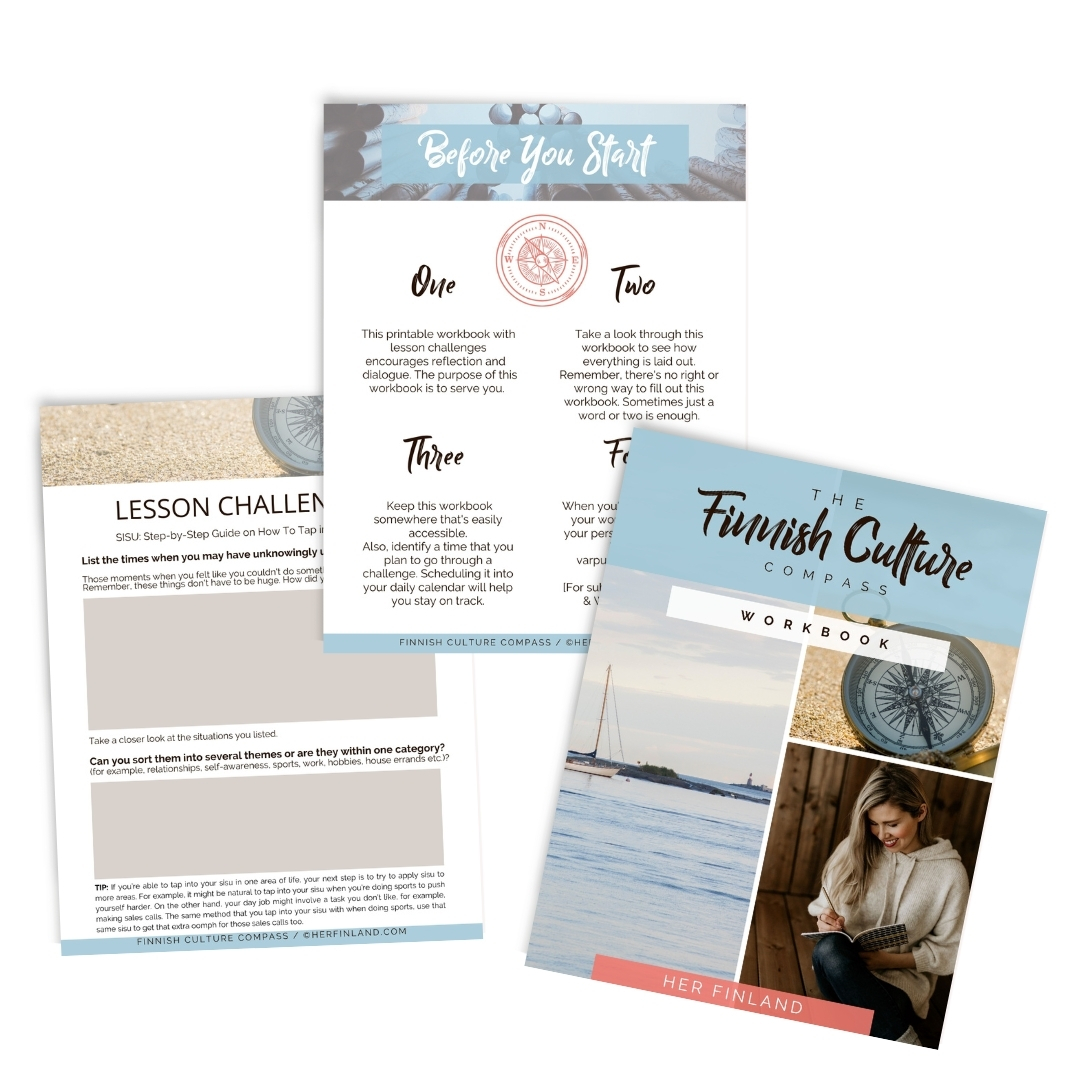 I designed the lessons to be fun and interactive, each ending with a lesson challenge that I'd like you to complete in your Finnish Culture Compass workbook.
After you have completed the course, I'll send back a personal video review based on your workbook.
#1 FREE BONUS - PERSONAL VIDEO REVIEW
(worth 150 USD)
Yes, we are in this together! You won't have any unanswered questions after this self-paced course.
After you have completed all the lessons challenges in your workbook, send it to me with any additional questions you might have.
I'll send you back a personal video review of your workbook.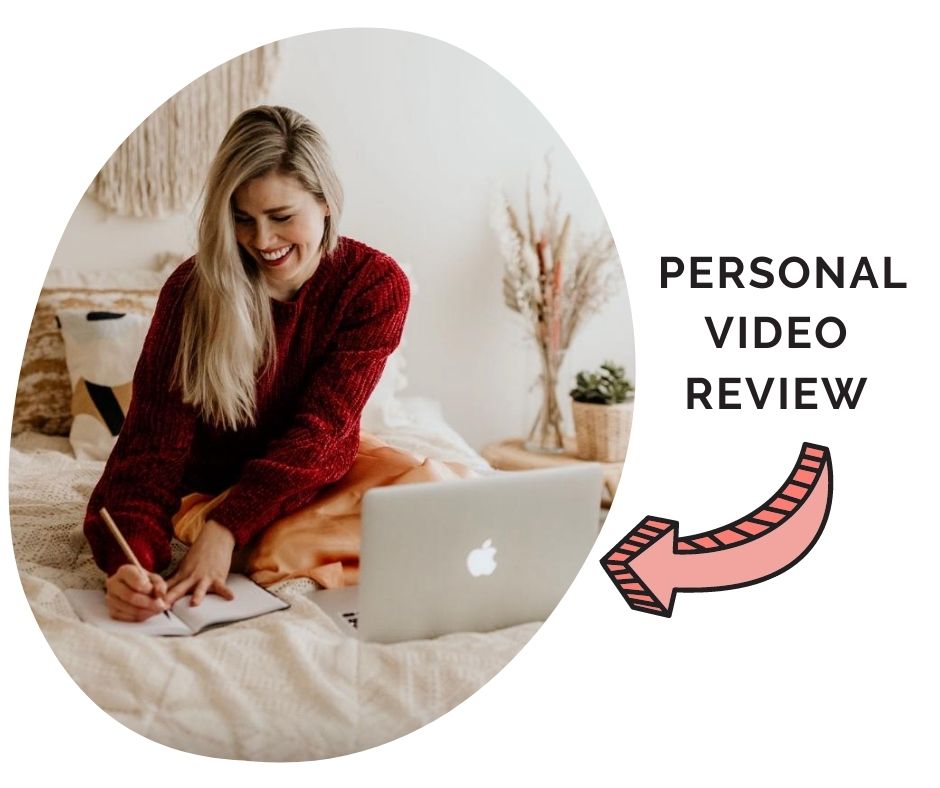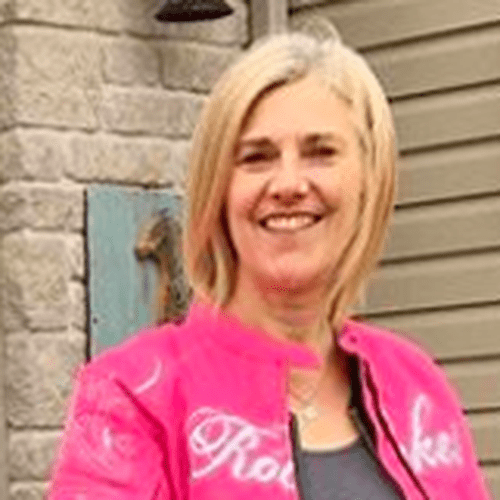 "I'm a first generation Canadian with Finnish parents. As a Finnish-Canadian, I still have strong Finnish roots and links to my heritage.
That said, I enrolled in this course thinking it would be interesting to hear what you had to share. Well, it's been more than than that.
Your course was placed in my path to help me to better understand my family of origin. Why they behave this way or that way. Some of it I knew were the "Finnish ways" but other things were eye opening. It's helping me to gain perspective and truly help me in my life and healing journey.
Thank you for creating this interesting and helpful course. Also, I'm enjoying your beginner's conversational Finnish course. I'll get back to it once this is completed."
- Lisa

"I've spent many, many hours in classrooms and online helping people to learn. When I comment in a positive way about this course, the remarks are both from a student and from someone who has done a lot of teaching.
Personally, the most surprising thing about the course is – don't laugh – how "Finnish" I am without being born there or even raised in a Finnish home. I did not know my Finnish grandparents and knew my 100% Finnish father for a short time before he and my mother were divorced and I never saw him again after I was about 7 years old. So much of what is in the course about Finns describes me.
The most helpful part of the course is without a doubt the workbook. Adult learners need lessons that are direct and can be used easily and importantly. The workbook helped me do that. When I write things, I learn them more effectively. I need time to think about what I learned and to see how it fits into my life. This happened all the way through the course. Thank you for your work!"
- Jeff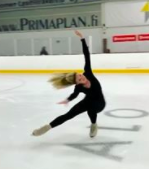 "This course is such a game changer! As a skating coach, I meet a lot of Finns every day - skaters of all different ages, parents, club people and rink staff.
Before this course, I was feeling very unsure about the Finnish communication style, for example how to interpret the Finnish silence. The Finnish conversation flow is much different than the American style.
Because my hubby and I are both expats, we weren't sure if we should feel offended during our awkward encounters with our Finnish neighbors. Now I feel so much more confident.
I loved the lesson about How to make a Finn feel comfortable and what things I shouldn't be offended by. Everything makes so much more sense now and I feel like I can truly relate to the Finnish way of life so much better now."
- Shannon
Let's check out the other two free bonuses that come with this course.
#2 FREE BONUS - FINNISH WHISPERER EBOOK
(worth 30 USD)
This easy-to-absorb ebook includes all those tiny daily life details and quirky cultural things that you only experience when dealing with the Finnish culture for a longer period of time (like living in Finland).
Knowing these things in advance will help you dive into the Finnish viewpoint and definitely alleviate the culture shock.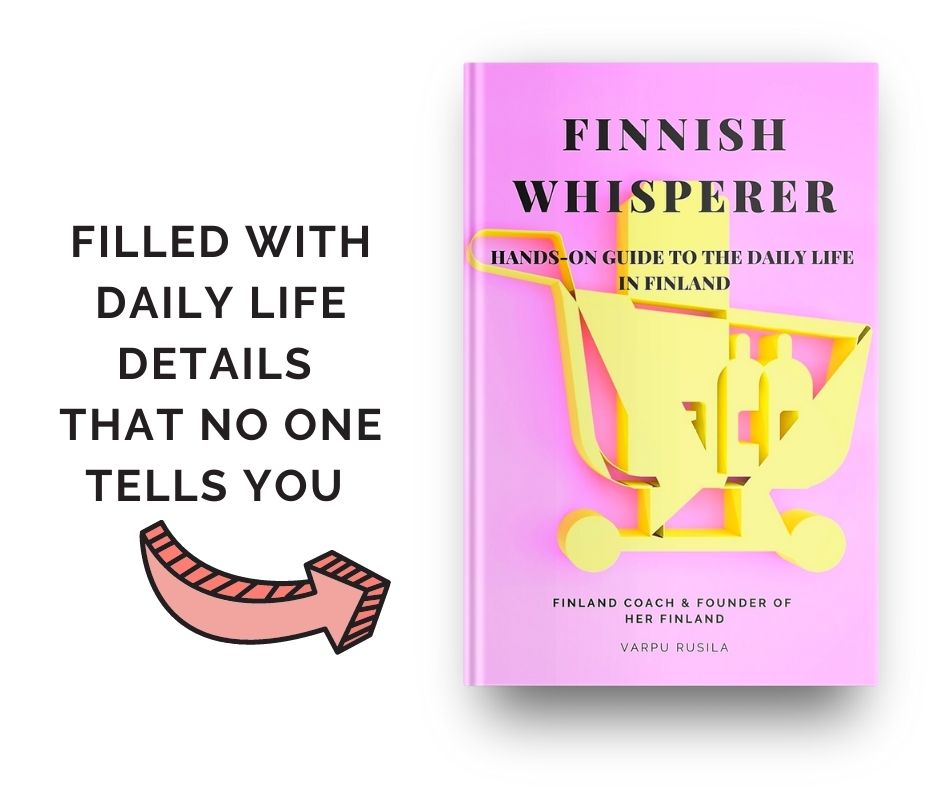 After reading this eBook, you'll know:
✅ 10 pitfalls to avoid in everyday discussions
✅ The must-know food and eating habits of Finnish people
✅ Why shopping in Finland can be an odd experience
✅ My two secret weapons to survive the Finnish winter (and surprisingly the summer too)
✅ The key to feeling comfortable in different public places
✅ How to behave as a guest in a Finnish home
#3 FREE BONUS - PRACTICAL CULTURE WORKSHOPS
These practical workshop videos help you immerse yourself in Finnish culture today. These 3 bonus video lessons will lead you to:
Amplify your sisu

Start conversations with Finns at ease

Take action with your Finnish dream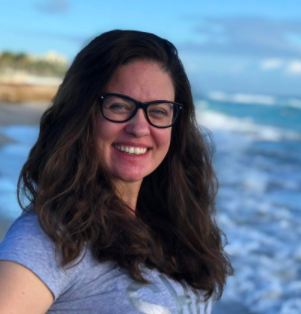 "Finnish culture is so interesting to me because I lived here 20 years ago as an exchange student and not much has even changed!
The tips about breaking the ice were really useful when meeting my husband's extended family members. Haha. It made for a way less awkward experience than the first time around!
I was also relieved to learn that "sisu" is applied to one task at time. I had been running around, applying it to everything and feeling utterly exhausted. LOL
Also, I found the ebook a very nice feature. The course was so smooth and your videos are very straight-forward. You are doing great work!"
- Kimberly
Smart questions to ask before enrolling
1. Why is the Finnish culture so difficult to understand?
I feel that the existing resources we have had previously, haven't gone beyond the tourist experience.
That's why we have been primed to believe that feeling connected with the Finnish culture is a) impossible or b) can only come through spending lots of time in Finland and learning through mistakes.
For me, learning through mistakes has always been the worst way to learn anything. It's so discouraging.
After 3 years of daily discussions, messages and replies to help my digital community, I'm confident that what you need is a focused system that helps you understand the Finnish culture and the Finnish communication style, not information from a textbook but from a real-life person.
2. Varpu, how can you explain a topic like this?
The secret sauce is you. My ultimate goal is NOT to make you fall asleep with information overload by giving you a one-sided lecture of Finland facts and cultural traditions.
This course is your personal Finnish culture discovery and I'm here to help you on the journey to discovering those things you want to find out.
That's why after completing the lesson challenges in your workbook, you'll get a personal video review of them, completely free of charge.
3. I think I know a lot about Finland already, how is this course going to help me?
I'm pretty sure there are new concepts and aha-moments for you here because this course was made with thousands of people.
Finnish Culture Compass involves my work on the channels of Her Finland. Besides the precious daily discussions, I have made several detailed surveys to find out the key interests and challenges of people who are into the Finnish culture.
Also, I have gone through academic research and literature classics that cover the history of Finland and the Finnish culture while interviewing Finns, people with Finnish heritage and internationals living both in Finland and outside of Finland.
All these encounters and observations have helped me formulate this program that is easy to understand and goes beyond the surface level.
4. I'm not sure if I should buy this course?
It's okay to be nervous. I know how scary it can feel to take the first step to invest in yourself and the thing that you want.
Sometimes I skip out on things because if I would make the investment, it would mean that I'm committed to making whatever that is, actually happen. It has taken a couple of years to understand this about myself.
I stand behind this course 100%. That's why I give you a 30-day money-back guarantee. Write to me and let me know why you would like a refund and I'll send you back your money.
5. Does this course work on mobiles?
It works great on mobiles. You'll have access to the course across any and all devices you own. I highly recommend watching the lessons on your mobile and leveraging the idle time you have on the go.
6. I'm not technical at all. How am I able to be in an online course?
You just need to login in and then select a lesson. I promise, it's super easy. I have students of all ages, some of them are 80+. If you have any problems, I'll send you video tutorial to help you navigate.
7. How can I get the personal video review?
After you have completed the Finnish Culture Compass course, please send me the lesson challenges in your Finnish Culture Compass workbook via email. I'll send back a personal video review.
8. Is this a monthly fee?
No. This is a one-time payment, and you get lifetime access to the course as well as its future updates. If you know a Finn, you probably know this: we warm up slowly, but once you make a Finnish friend, they're there for life.
9. When does the course start and finish?
This course is a completely self-paced online course - you can start when you have the time. You'll always have instant access to all course materials.
10. Will I learn Finnish with this course?
You'll hear some Finnish, as I showcase some Finnish sayings. This course is 99% in English, though. I have a praised beginner-level course called Conversational Finnish for Beginners.
11. What happens after I purchase the course?
Once you purchase this course here on Teachable (Teachable is the course platform where you'll access the lessons), you will get immediate access into the course. Also, you'll receive an email confirmation stating that you paid and my support emails with links back to this course.
12. Varpu, am I able to control the sound and video?
Yes. You can always speed up or slow down my speech, using the gear icon. You'll have all the normal functions with the video. Play, pause etc...
13. What currency is the course fee in?
The course fee is in US dollars, and you purchase the course in US dollars. It's super easy to buy at the checkout. You can use a credit card or Paypal. These companies will make the currency exchange for you after the purchase.
14. How much are the taxes?
The checkout will automatically identify if and how much you need to pay taxes.
15. What is VAT ID at the checkout?
If you have a company with a VAT ID, you can add in the ID in and get the course with 0% VAT.
16. How long do I have access to the course?
This course is yours, always.
17. Okay, so how do I enroll?
Go ahead and smack the red button below. I promise that I'm waiting for you on the other side.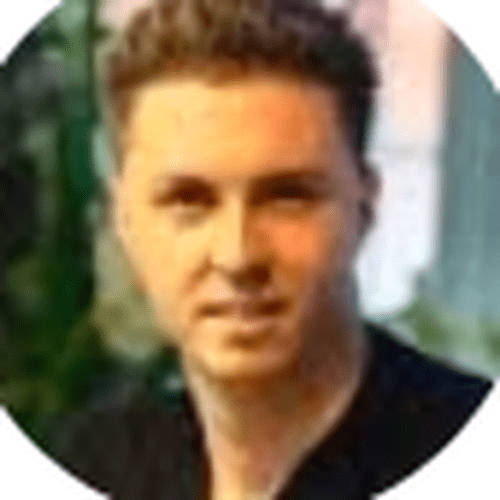 "It was a pleasure taking your course on Finnish culture! I already knew a thing or two from my long-term Finnish partner and my 2 short lovely trips to Finland, but I learned quite a few new and important things.
I really enjoyed watching your video feedback on my workbook! Love your personal and helpful approach. So much value! (You should price the course higher! :) Thanks for everything again, Varpu. I feel much more equipped for our planned Finland relocation."
- Emil
Finnish Culture Compass course comes with:
✅ Free personal video review (worth 150 USD)
✅ Amazing bonuses (worth 60 USD)

✅ Instant access to all modules
✅ One-time payment, 30-day full refund
✅ Self-paced - Start when it's convenient for you!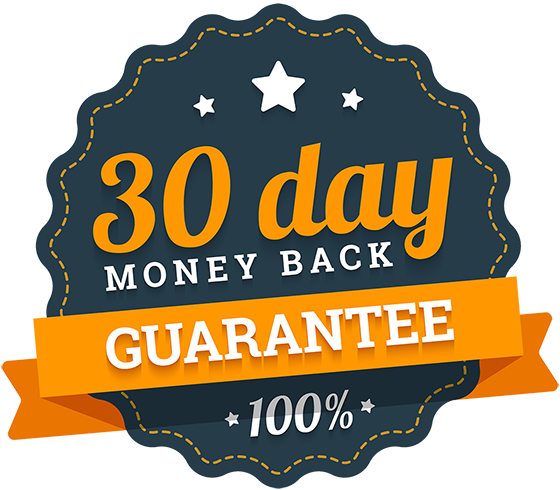 Look, I understand you've binge-watched Bordertown AND Deadwind on Netflix. I bet you're even a member of all the Finland-related forums and Facebook groups... but you're still looking for that next resource to give you that aha-moment.
I'm here to tell you that Finnish Culture Compass course will show you how it all clicks. And if you have any questions, I'm here for you.
Go ahead, tap that button below and never feel like something got lost in translation.
⭐️⭐️⭐️⭐️⭐️ 14 000 happy students
🇫🇮 Made in Finland and by a Finnish MSc.
💙 Return Policy: 100% satisfaction guaranteed. 30-day money-back guarantee from the time of purchase. Full refund offered.
💳 Payment Methods: Visa, MasterCard, American Express, Discover, Paypal, Google Pay, Apple Pay
📩 Contact: [email protected] or send me a message here